"What's in your bowl?" Oma's Pride Staff Shares Tips & Tricks
If you've been feeding raw for a while, you know there are a million (and one) different ways to reach those #bowlgoals.
Some pet parents carefully arrange meat, bones, fruits, vegetables, and treats in their dog's bowls (Instagram-worthy, anyone?). Others keep it simple with eggs and an Oma's Pride Signature Mix.
Whatever your style, the beautiful thing about raw feeding is that there's no one right way. The love and intentionality behind feeding our furry family members is what matters.
So, today, we want to do something super special.
We're going behind the scenes with our lovely staff members to see what their four-legged companions like to feast on.
We hope our passion for raw food inspires you to try something new and connect with the people & pups at the heart of Oma's Pride.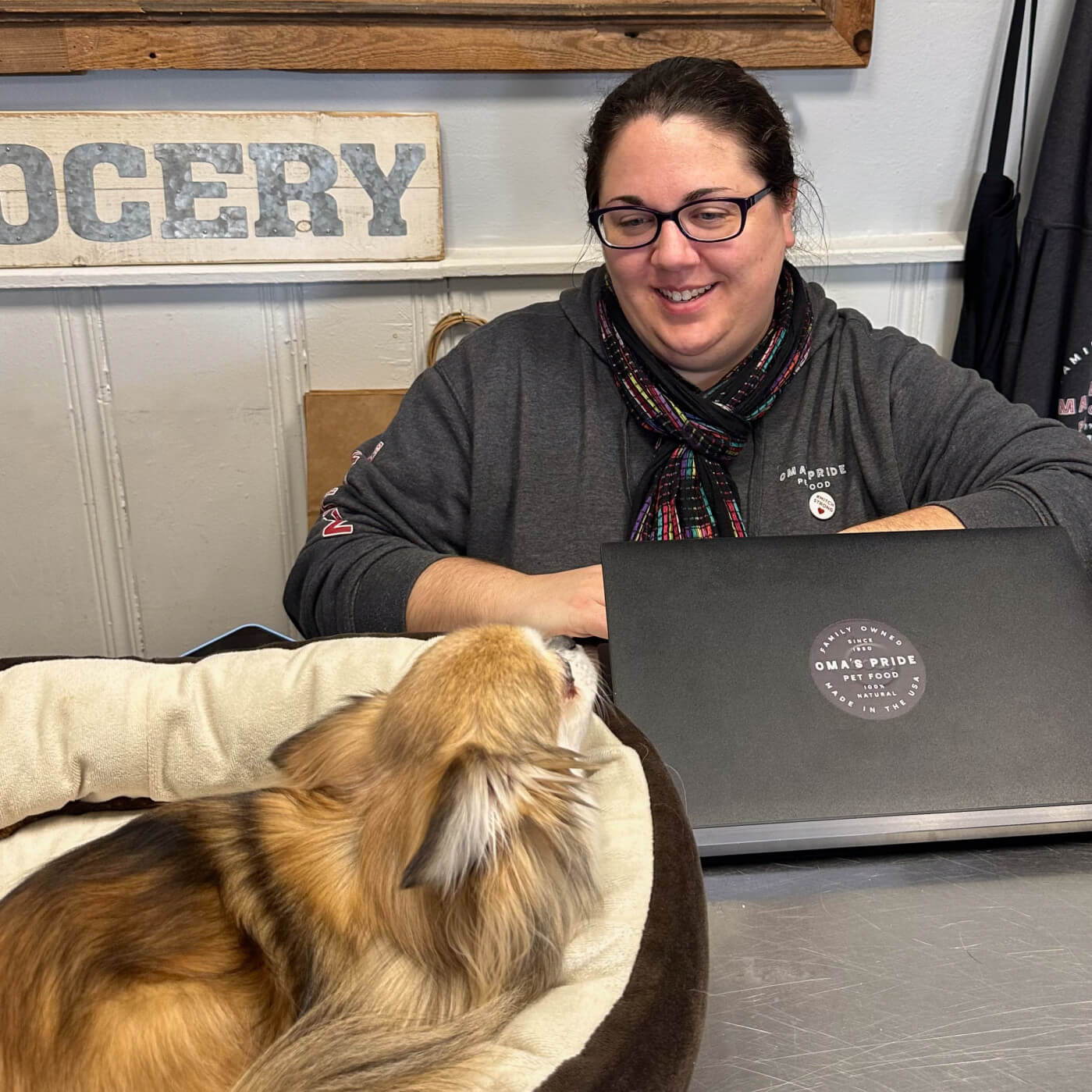 Say "hi!" to Meghan, our trusty customer care specialist. You may know Meghan already after chatting with her on our site's LiveChat feature or seeing her at our shopping mart in Avon, CT!
Meghan has been with Oma's Pride for 5 years as our customer support guru—she is extremely knowledgeable about all things raw feeding. She can help you with your order, feeding questions, and product information. Reach out to Meg through LiveChat on our website, and she'll be more than happy to help out!
Meghan has 2 chihuahuas, Ferg and Mina, and a lab mix named Abby.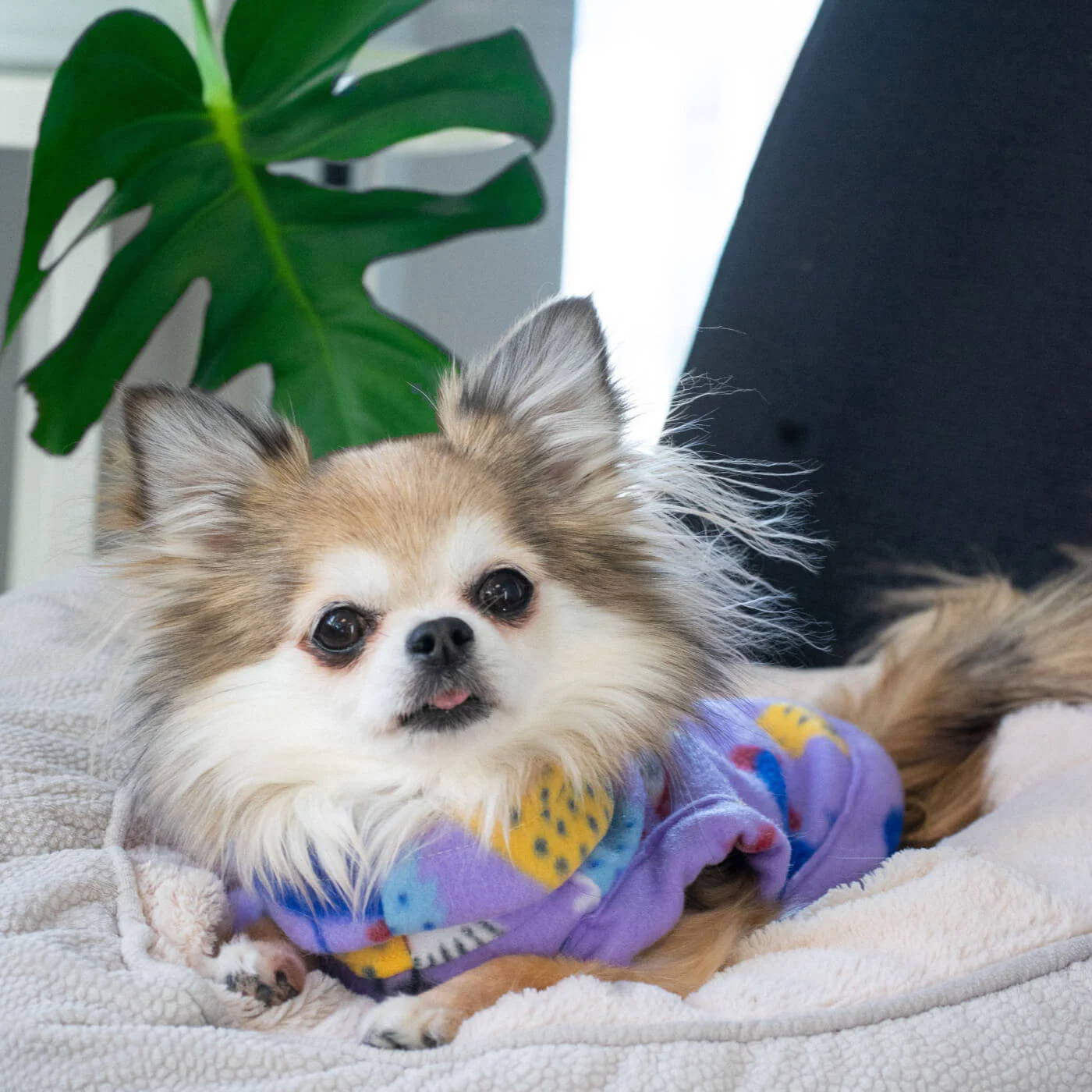 This is Mina!
They say good things come in small packages…and this is definitely true about Mina. Mina is an extra small dog; she gets about 1 oz of one of our mixes.
Now, Mina is a fancy girl who likes to change it up depending on her mood. Some days, she'll have the Woof Complete Chicken or Turkey. For others, she'll have a Signature Mix (she prefers Turkey & Veggie or Chicken & Veggie). On top, she gets about half an ounce of freeze-dried protein, like our green beef tripe flats broken up and sprinkled on top.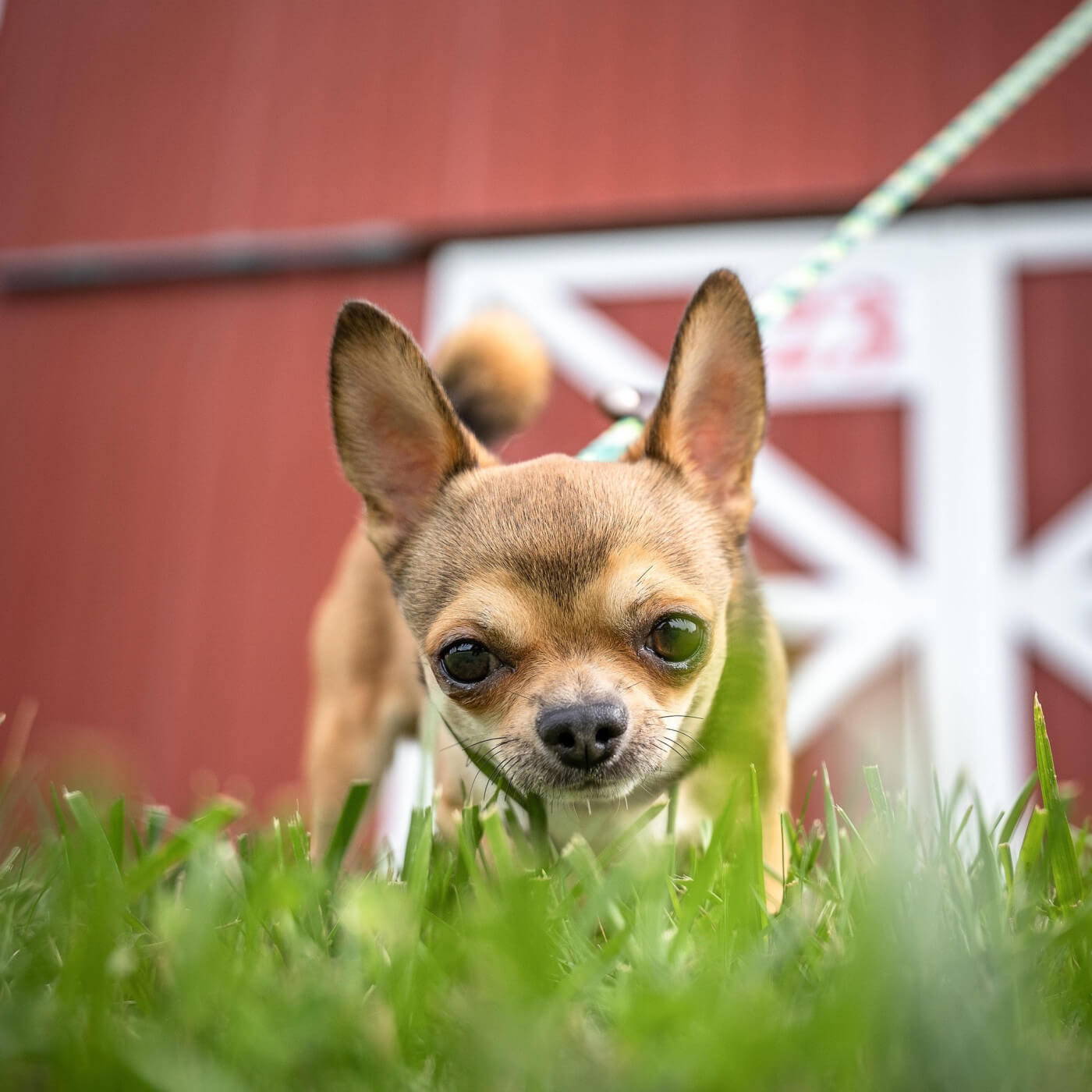 Ferg, the chihuahua, is a bit more straightforward than Mina. Ferg gets about 1.5 ounces of one of our Woof Complete Mixes. Ferg loves that our Woof Complete Mixes meet AAFCO standards for a complete diet (trust us, he told us!). So, nothing additional needs to be added because Ferg gets all the necessary nutrients from one recipe.
Fun fact: Ferg likes to try his paw at competing. He competes in AKC Conformation and Scentword and holds titles in both—let's go, Ferg!!
Abby is Meg's beloved senior pup. Abby primarily eats kibble. On occasion, Abby will get raw freeze-dried proteins as a topper. As we say, "any raw is better than no raw!"
Quick tip! Since Abby eats kibble, Meghan adds some water or bone broth to the bowl (letting it soak first) to increase the intracellular moisture of the food.
Next, we want to introduce you to Morgan, our stellar visual and marketing designer! If you've noticed our beautiful treat bags (holding the tasty treats), you've seen Morgan's handiwork.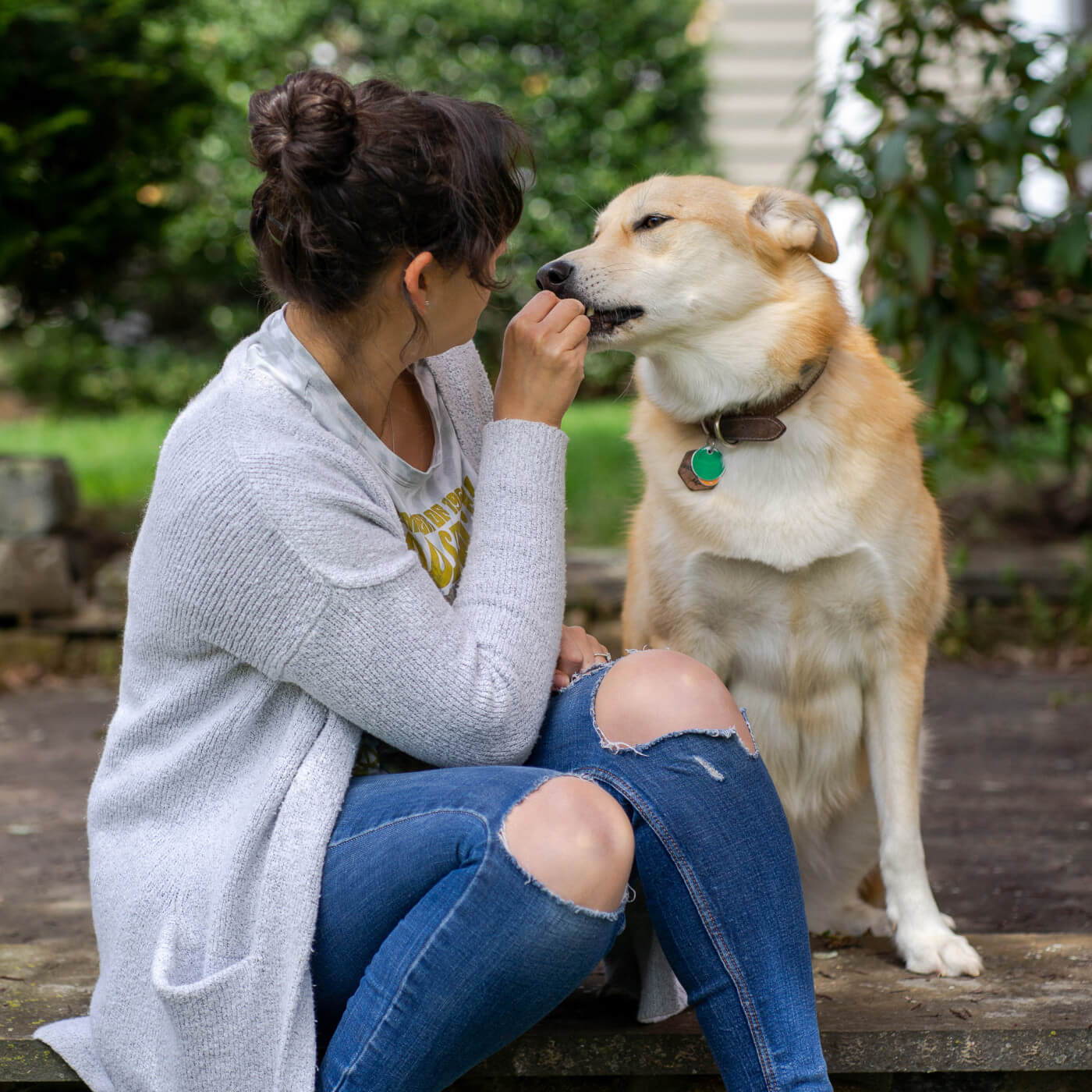 Morgan has been with Oma's Pride for 5 years. We are lucky to have such a passionate and creative individual on the team!
Morgan has one pup named Lula, a 2-year-old Husky and Great Pyrenees mix. Lula gets one of our Woof Complete Mixes as her base, a scoop of pumpkin puree for digestion on top, and finally a sprinkle of locally sourced bee pollen to prevent seasonal allergies.
Morgan is a huge advocate for locally sourced bee pollen because it has been a game-changer for Lula's health. She likes to get it from a cute little local farm a few towns over from our warehouse in Avon, CT. The trick is to purchase the bee pollen from your local area so your pup can build immunity to allergens in your vicinity.
Lula also enjoys the occasional raw turkey neck for mental stimulation and dental health.
Quick tip! Morgan will typically meal prep Lula's raw meals in advance by portioning them into different Tupperware containers and storing them until mealtime. She usually preps about a month of meals for Lula in one sitting.
Not too bad, right? Lula loves this efficiency (yes, she told us!) because it leaves more time for playing and snuggling.
Meet Adam, our 4th generation owner and operator, with his best pal Lincoln the Cavapoo. Whether they are working hard together at the office or taking a stroll outside, these two are inseparable companions.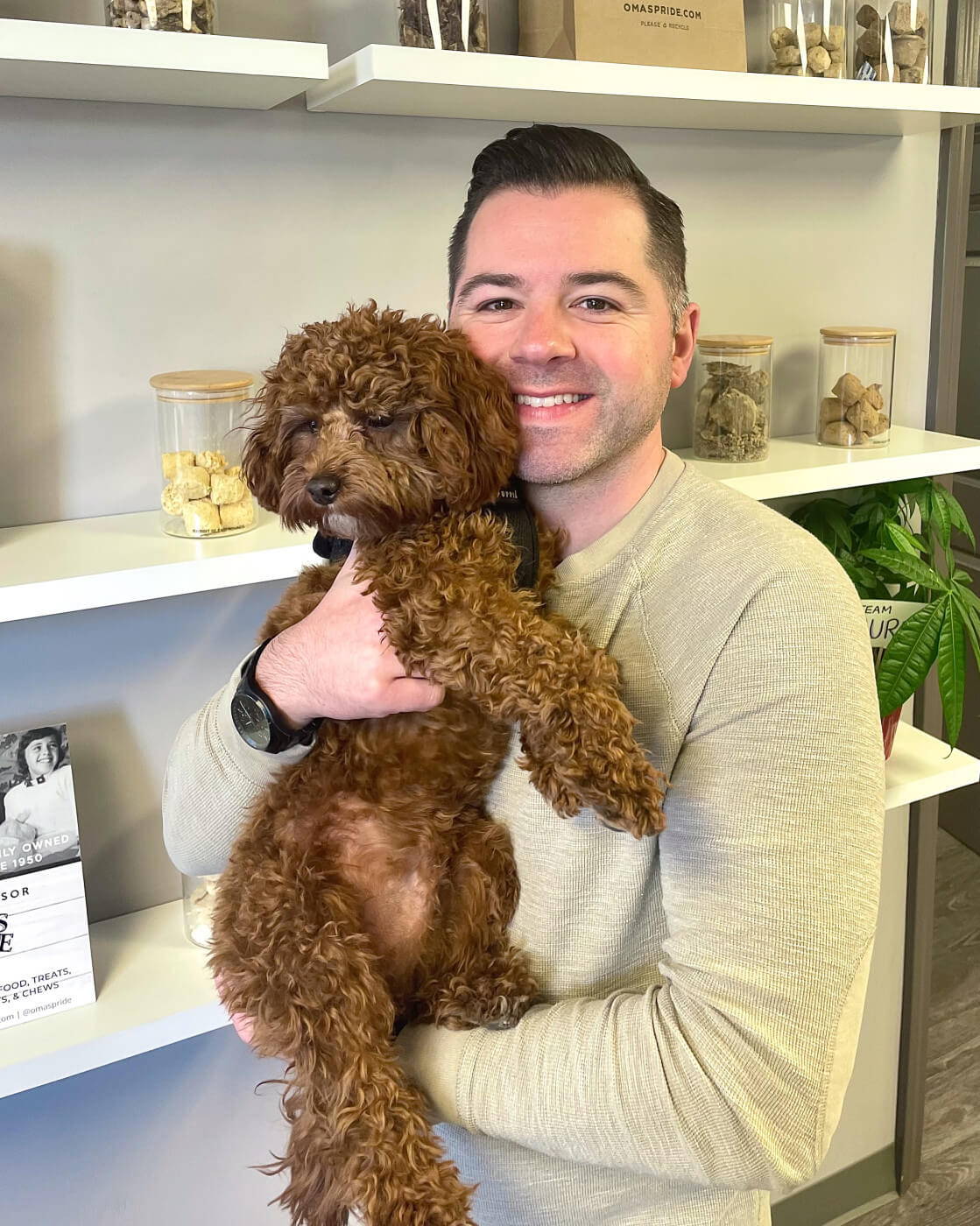 Adam has recently been trying out a non-poultry diet due to a suspected allergy. Lincoln usually starts with ¾ of a Woof Complete Lamb Recipe patty with some Green Juju (dehydrated greens) and dehydrated Beef Liver to top.
Quick tip! Like many, Adam is busy and finds the convenience of patties to be a game-changer. Patties are the exact same recipe as the larger packages but pre-portioned to make feeding quick and easy.
Adam's also a huge fan of Green Juju's "Just Greens Blend." This dehydrated blend of all the essential greens your pup benefits from is compiled into one pretty little bag. Lincoln loves his little sprinkle of greens!
Thank you for joining us in this special behind-the-scenes look at Oma's Pride Staff dog bowls.
Just like you, our dogs and people are unique with diverse needs, preferences, and life stages. Whether you have time to DIY your dog food or sprinkle a little freeze-dried chicken breast onto kibble, what's important is doing what you can. Adding a little raw to your pet's bowl is something you can feel good about.
Now, it's your turn! We want to learn from you and see how you do #bowlgoals.
Share with us your story, feeding tips, and pictures below for a chance to be featured on our social media accounts! As thanks, we'll send you a 10% off your next order coupon for sharing the love.
Form not working? Email us at nina.j@omaspride.com with your name, your dog's name, an explanation of what you feed, tips & tricks you have, your social media handle, and a picture!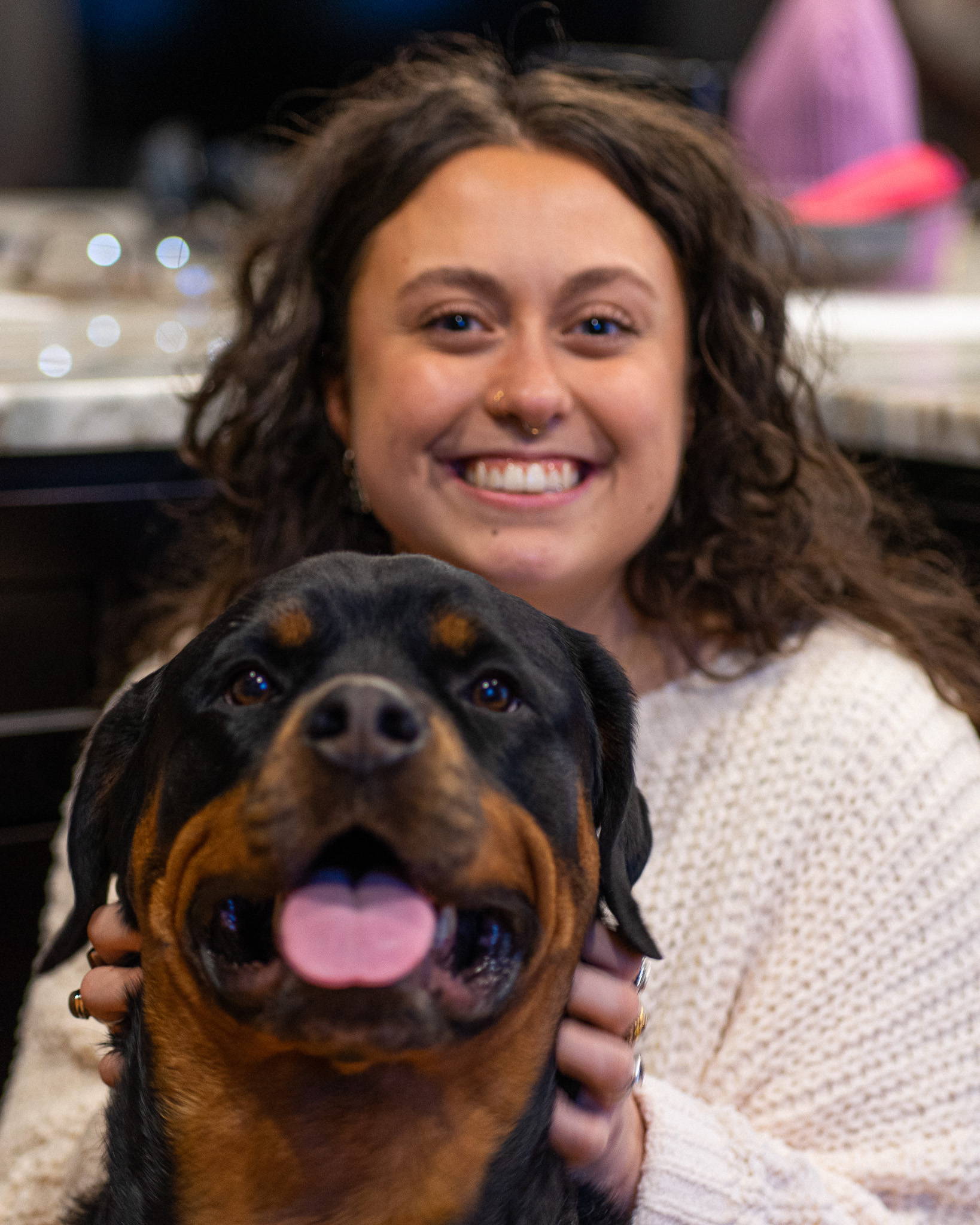 About the Author
Nina Julian is an alumni from SCSU, part-time bartender, full-time content & media specialist for Oma's Pride, and cat mom to Roger. She grew up with 3 dogs, 2 fish, and 1 red-eared slider turtle.
Connect with us on social!