7/30/2023 | 7 minute read
My name is Morgan and I work as the visual and marketing designer at Oma's Pride! Since starting work at Oma's Pride I have gained a ton of knowledge about pet health and nutrition. So, when I adopted a dog of my own for the first time, I knew I had to feed my puppy a raw diet. Fast forward two years and my Great Pyrenees / Australian Shepherd / Husky / German Shepherd / Grey Wolf concoction of a dog, Lula, is 75 lbs of perfection. This means that she eats a pretty good amount at every meal. 11 oz. worth to be exact. Raw meal prep for dogs, especially large dogs, can be daunting, but I've laid out some tips and tricks for preparing up to 30 days of raw meals for your pet.
TIP #1: Raw feeding can get pricey, especially for larger dogs. To give Lula the best nutrition while not stressing about the cost, I feed her raw at dinnertime and kibble in the morning.
To start, I want to talk about what kinds of things I include when I raw meal prep for Lula. I like to give her variety, so I don't do the same bowl every time I prepare her meals. However, no matter what, I like to make sure I'm giving her the following
A ground raw meal I know is a certified complete and balanced meal so I can mix things up with add-ins! I make this item the majority of her meal

Something with some crunch! To keep her teeth in great shape and to work that noggin of hers I like to add in some sort of whole meaty bone like a chicken or duck neck.

An extra bit of fruits/veggies. Every few months I'll buy a giant bag of blueberries or a ton of baby spinach, puree it, and fill ice cube trays to freeze. When I'm ready to meal prep for Lu, I can easily pop one of these out and add it right in to each dinner. If I don't find the time to do this, I'll just buy a couple cans of 100% pure pumpkin in the baking section of the grocery store and add a dollop.

Something to keep it interesting! Luckily, my dog has not had any issues with food related allergies to I am able to give her a variety of different proteins. We've tried things from ground chicken organ to ground quail frames. She loves it all! This month we added in ground beef organ or ground venison meat.

Omega-3s! Lula has a thick coat so I always make sure there is some sort of fish product in her bowl as they keep her coat shiny and soft with less shedding if can believe it - even her vet commented on her beautiful coat at her last visit! Lula's bowl always consists of either a whole sardine (cut into thirds cause she's a lady), or ground salmon.
TIP #2: Salmon oil or a freeze-dried fish meal topper can also be used to get the benefits of raw without cost.
Since Lula is a bigger dog, I leave convenience at the door, whip out my kitchen scale, and get the big bulk packages of raw food - this is a much more cost effective way to raw meal prep for dogs. To start Lula's raw dog food meal prep, I make sure that I take all her food out of the freezer the day before I plan to prep, as the larger packages of food can take a little longer to thaw. Thawing in the refrigerator is the best way to ensure her food stays fresh. In our house, Lula has her own set of tupperware that is just for her. I use the medium sized food containers from Glad. Old take out containers also work great. They are short and stack nicely on top of one another in my freezer.
P.s. Raise your hand if you have a freezer just for dog food 😬🤚 Speaking of hands, I always use disposable gloves when I food prep so I can easily grab fistfulls of raw meat.. cute right?!
Then I prepare my stations. I lay out every block of food and cut the tops off so I can easily grab and fill the container. I have my sardines all cut up if that's on the menu and I have my tupperware lids in one stack and the containers in another. And I have my kitchen scale ready to go, making sure I tare it before beginning. For this meal prep, her food was still a little frozen so I was able to cut it up into aesthetically pleasing chunks.
TIP #3: It's super helpful to use the same size container for each prepped raw meal, not only because it will fit more neatly in your freezer, but you don't have to keep zeroing out the scale. Keeps all the meals consistently the same weight.
Time to grab and fill! I measure Lula's food in ounces and she gets 11 oz. of food per meal. I like to start with the main component of her meal which is the certified complete. This will be about half of her portion (5-6 oz.). Then I'll do the whole necks since those are kept whole and the size is what it is as some are bigger than others. Then from there I add a couple ounces of fish, a small portion of ground beef organ or whatever protein I picked out, and finally the added fruit or veggie puree.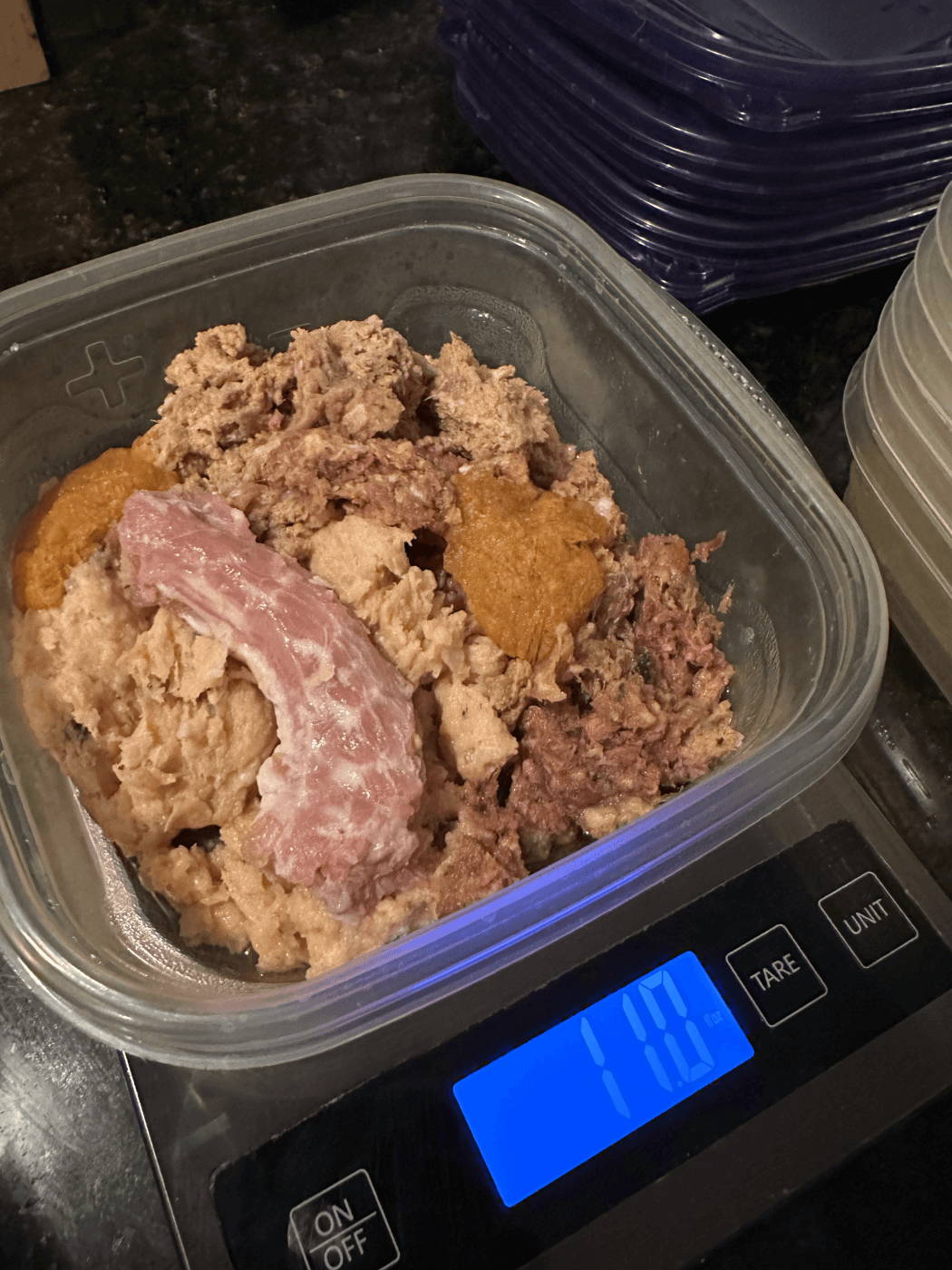 Once I have all the containers filled, I put all the lids on at once, and stuff the freezer! My freezer is able to hold about 30 meals so that's what I'll aim for when raw meal prepping.
Time to eat! I only like to take out 4 raw meals at a time to keep in the refrigerator, as that's about how long raw food should be thawed out for (remember Lula only had one raw meal a day so 4 meals in 4 days worth). The night she finishes that 4th container in our fridge, I'll take 4 more out of the freezer and transfer them to the fridge. If I plan to add on a supplement to Lula's dinner, I will add it right before I feed her.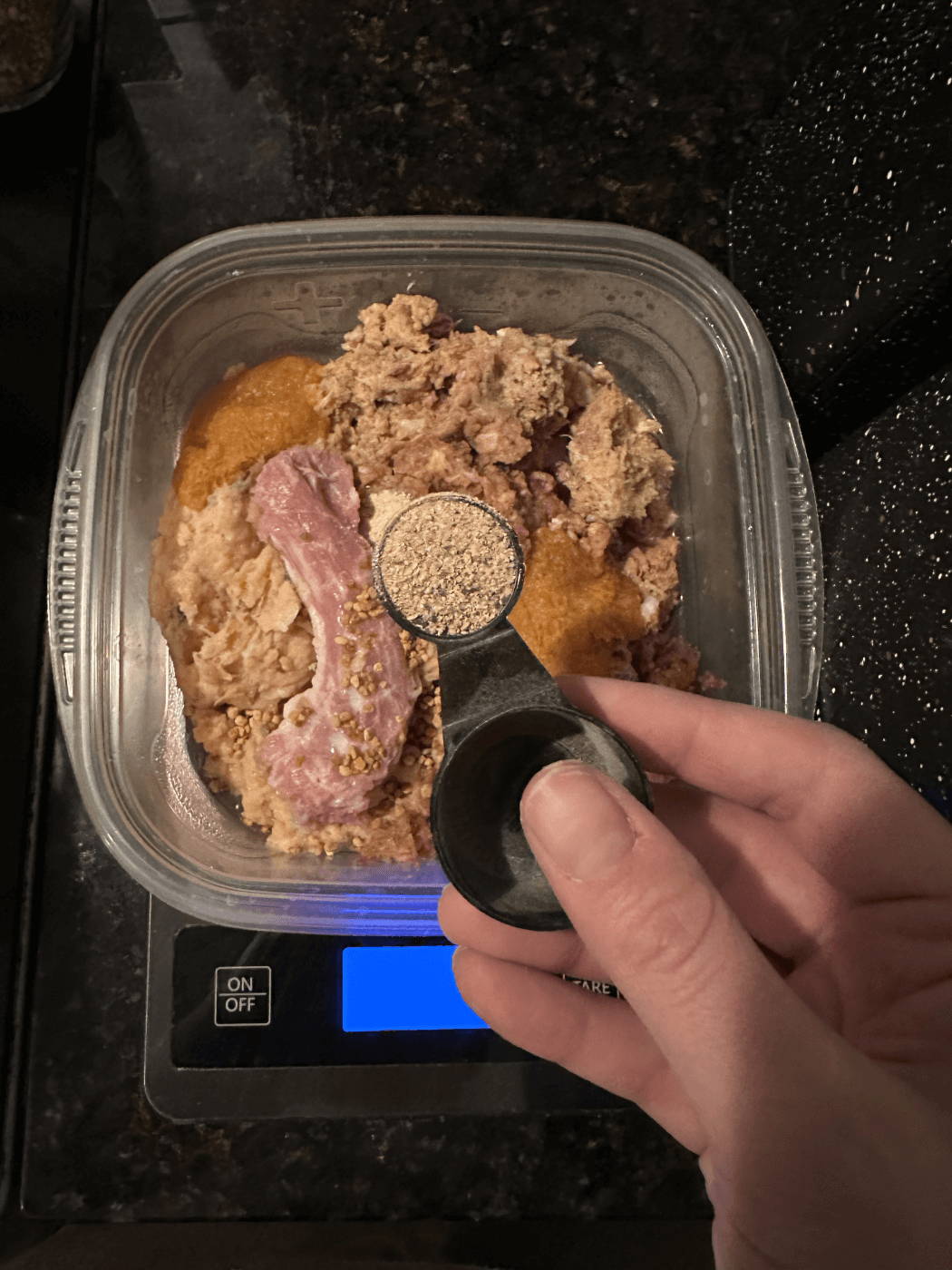 TIP #4: Only feed raw once a day, but don't want your dog to turn their nose up to their kibble? Add some pizazz! I like to add a meal topper to Lula's morning kibble so it's almost as special as dinner time. Some of our favorites are, Vital Essentials Freeze-Dried Chicken Mix-Ins and Koha Freeze-Dried Raw Elk & Venison Topper.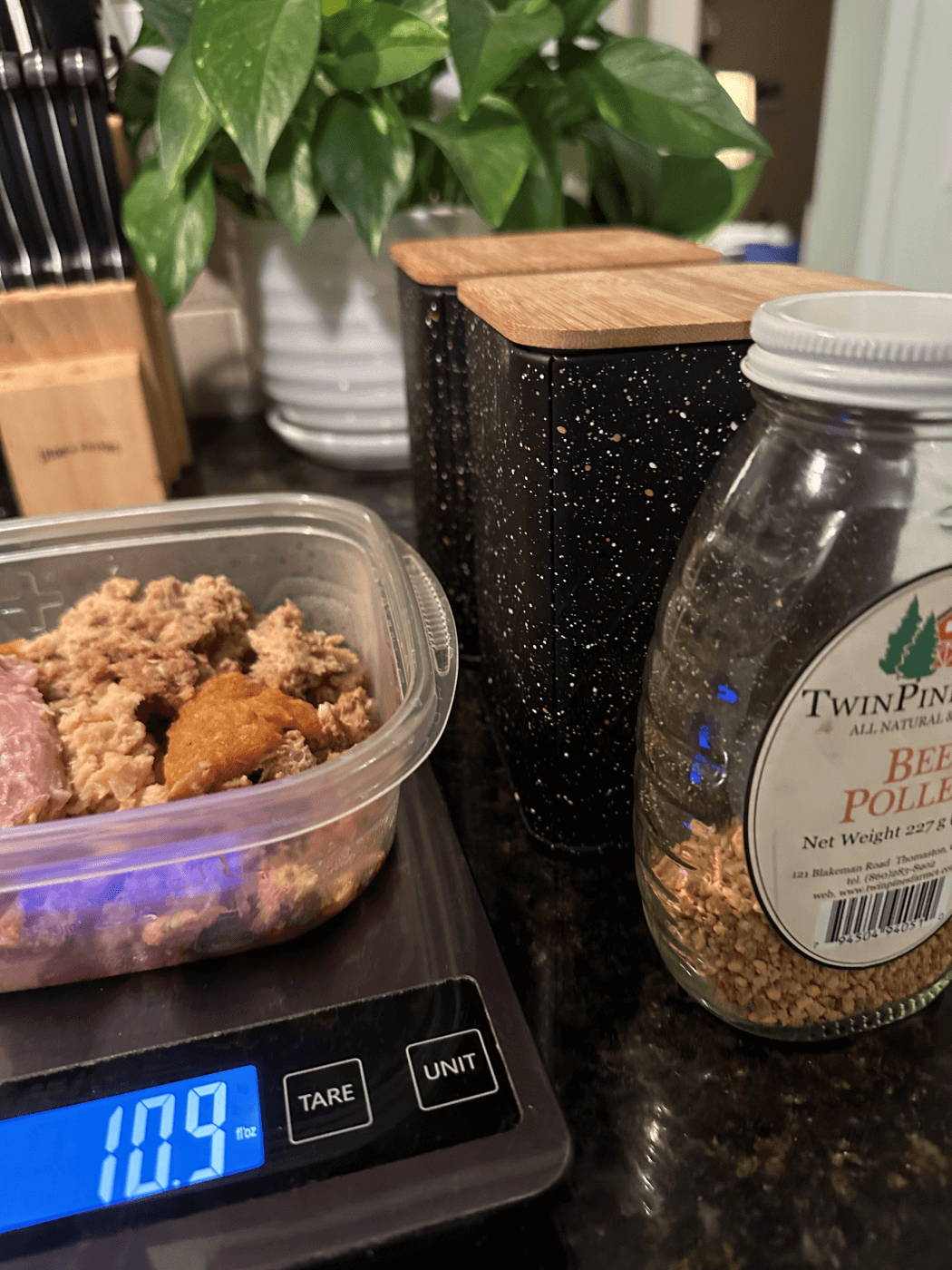 Extra add-ins we love!
Bee pollen

for the spring and fall. Lula's skin can get itchy when the seasons change so I like to grab some local bee pollen from a farm stand near our home and sprinkle just a little on her food to keep those allergy symptoms at bay. It's important to get pollen locally so that reflects your area's allergens.

Joint supplements

. Lula has those big dog genes which means she's prone to arthritis in her joints. Even though she's only two, I've started Lula on a mobility supplement every day to prevent any early signs of joint inflammation.

Probiotics. Green beef tripe is my go-to for digestive health since Lula LOVES it and it comes in both raw and freeze-dried options. If green tripe isn't included in her dinner, I'll add a digestive supplement to keep her regular.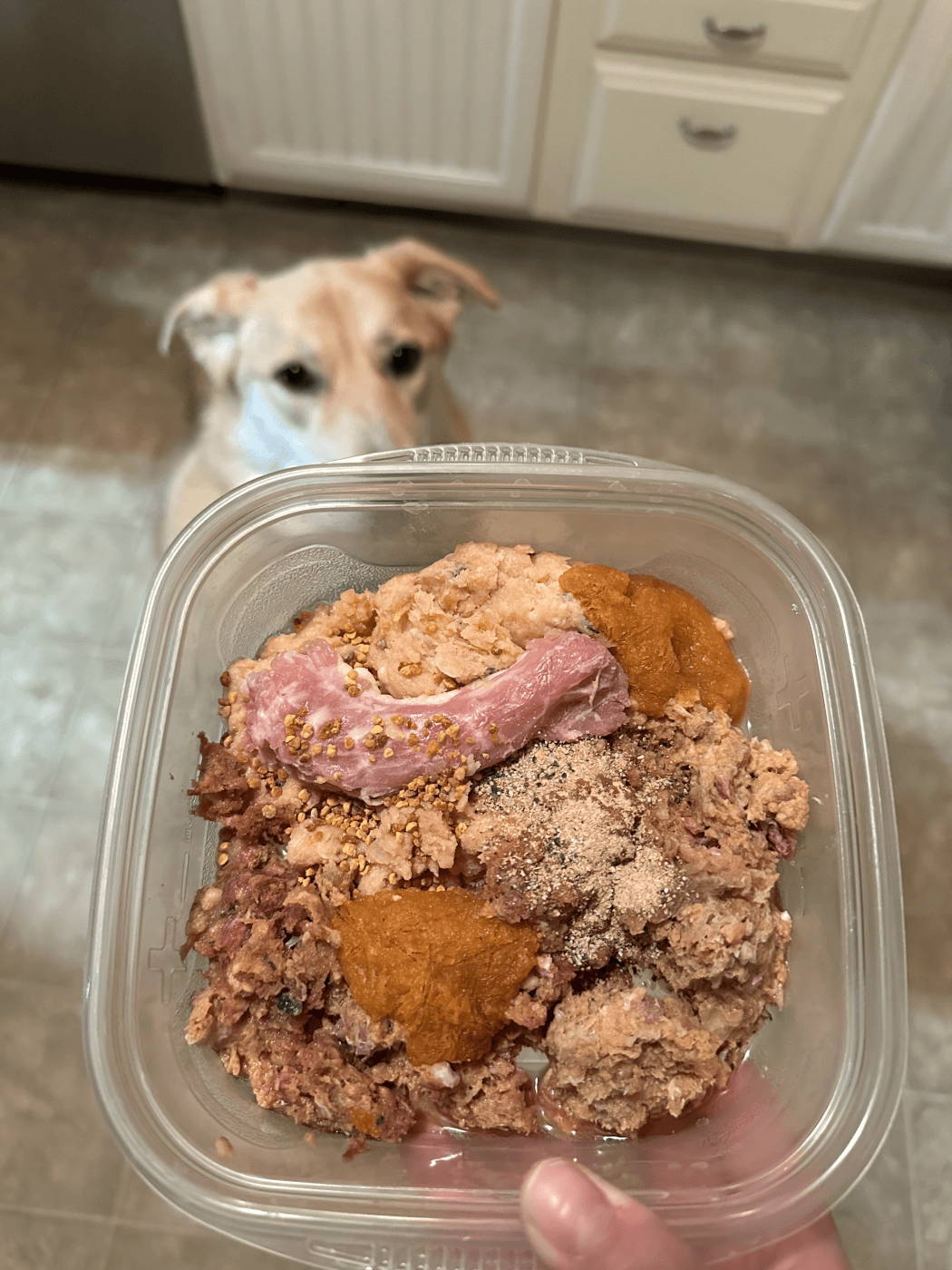 It's not the easiest way to feed your dog, but I find that this method for raw dog food meal prep is what works for me. Thanks for meal prepping with me! #MPWM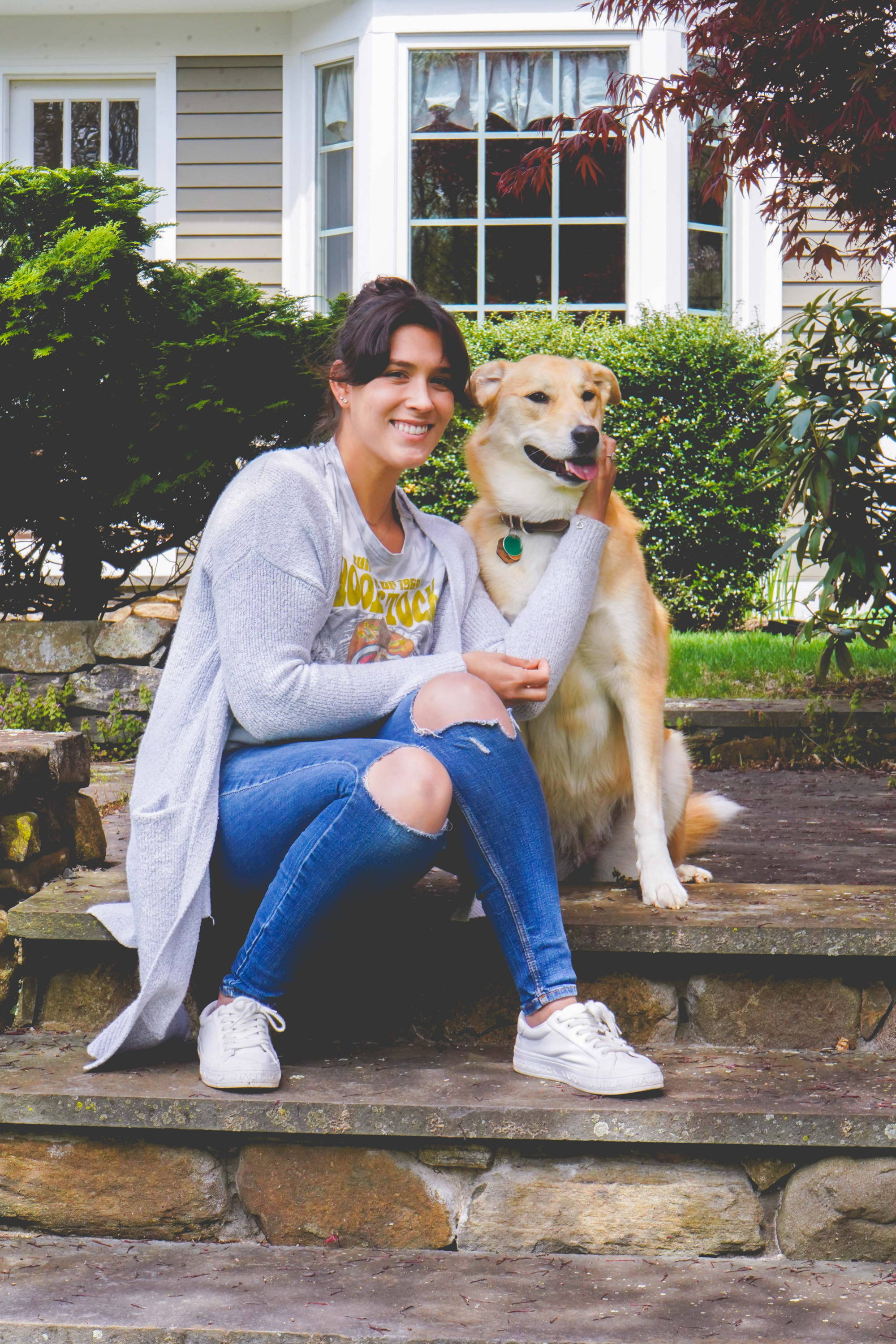 About the Author
I'm Morgan Sharp! I'm currently living the dream being a visual and marketing designer, as well as being newly engaged and the proud owner of the most photogenic dog, Lula! I'm a Fairfield University graduate (go Stags!) and have my Masters in informational design from CCSU. I found my way by combining my love and education of animals and animal well-being along with my natural creativeness to find the perfect fit as an Oma's Pride pet food designer.
Connect with us on social!