Everything You Need to Know: Chicken Hearts for Dogs
7/27/2023 | 7 minute read
If you're a pet parent, you may have seen people on social media giving their dogs raw bones and organs…even chicken hearts.
You wonder, "Should I be doing the same?"
The answer: yes! Organ meat helps many dogs live longer, healthier lives because they are packed with vitamins and nutrients. Feeding chicken hearts to dogs in a balanced diet can strengthen the immune system, support heart and blood health, and more.
Read on to learn more about chicken hearts for dogs, including health benefits, how to feed hearts, how much to feed, and where to buy them.
Where to buy chicken hearts for dogs and cats
If you're looking to purchase nutritionist-recommended chicken hearts, you can do so directly online through Oma's Pride. Oma's Pride chicken hearts are:
Sourced and produced in the USA

100% natural without preservatives, additives, or flavorings

Antibiotic-free

High in amino acids

100% raw (no HPP)
Oma's Pride has an extensive collection of chicken heart products to choose from!
Freeze-dried chicken hearts are a great way to give your dog all the health benefits without worrying about gooey messes or quick expiration dates. Freeze drying naturally preserves more than 90% of nutrients and makes food shelf stable for long, extended periods of time.
Option 2: Get the "heart medley" that includes whole chicken hearts, duck heart rounds, and hand-sliced turkey hearts in a 4 oz or 16 oz bag. For both dogs and cats.

Option 3: Buy a Woof Complete Chicken Recipe with chicken hearts inside (comes in 16 oz shake, 4 oz complete recipe rounds, or 16 oz complete recipe rounds). This option is for dogs only. These are complete meals that exceed AAFCO canine nutritional standards for all life stages.
You can take the pressure and worry out of feeding your dog a raw diet with canine recipes and mixes with chicken hearts.
Option 1: Buy the Chicken & Veggie Mix (comes in 2 lbs, 5 lbs, or 14-pack patties). Meant for supplemental or intermittent feeding with chicken meat, bones, necks, hearts, gizzards, liver, and select veggies. For dogs only.

Option 2: Purchase the Ground Chicken Organ meat with hearts and gizzard (2 lbs). Cats and dogs can enjoy this meat!

Option 3: Select the Woof Complete Canine Chicken Recipe with hearts inside (comes in 4 lb or 14-pack patties). This option is for dogs only. These are complete meals that exceed AAFCO canine nutritional standards for all life stages.
How do I prepare chicken hearts for my dog?
You can serve chicken hearts to dogs and cats as a treat, nutritional topper, or inside of a larger meal. If your dog or cat has never eaten chicken heart, I recommend starting slowly by introducing only one new food at a time (in small amounts).
Once your dog or cat tries the new food, wait to see how they react. If I don't see any severe negative symptoms, I continue giving the new food for several days until they have solid stools.
If you're concerned about introducing a new food, consider adding a supplement to aid with the transition. I recommend a digestive performance formula, slippery elm, pumpkin, or bone broth.
The main health benefits of chicken hearts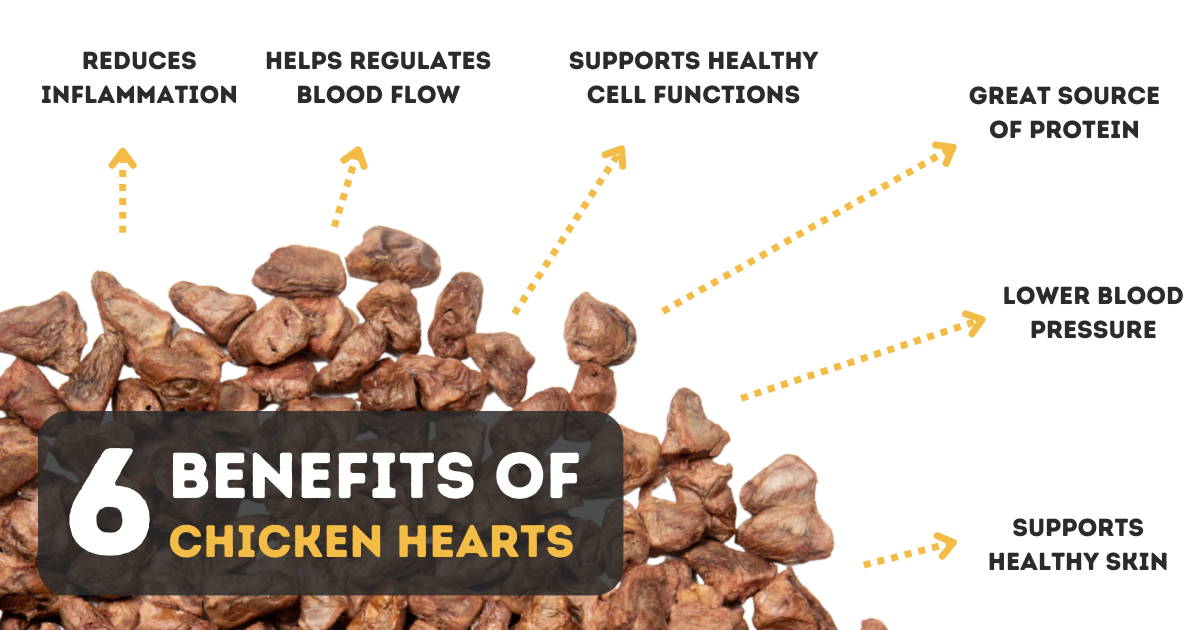 Sadly, cardiac arrest and heart disease are common causes of death amongst dogs. However, as pet parents, we can proactively prevent these issues by feeding our dogs nutrient-dense foods.
Chicken hearts are one such food to consider because they are packed with nutrients like taurine and omega-3 fatty acids.
Note! Taurine supports your dog's heart by regulating blood flow and strengthening the walls of the heart. Omega-3 fatty acids can reduce inflammation and lower blood pressure.
Studies show that these nutrients help prevent and treat heart issues in dogs. The benefits often include a longer lifespan and better quality of life with fewer symptoms and less suffering.
In short, chicken hearts for dogs could lead to a longer and happier life for your pup, with a stronger and healthier heart. Similarly, feeding your dog liver and kidney will benefit your dog's liver and kidneys—it's really that simple! As a Certified Canine Nutritionist, this is how I feed my dogs.
Other vitamins and minerals in chicken hearts
Chicken hearts are packed with many essential vitamins and minerals. Incorporating them into your dog's bowl can strengthen the body in many ways.
Chicken hearts are a natural zinc source, making it easier for the body to absorb and use nutrients than synthetic sources.
Zinc is essential for healthy cell function and immunity. It also has visible effects on skin health. Many skin disorders cause dogs' skin to become cracked and sore, often due to zinc deficiencies.
Zinc deficiencies can negatively impact dogs by impacting vision, social behavior, and reproductive health (especially in male dogs).
You can fight against zinc deficiencies in your pup's bowl by feeding chicken hearts.
Chicken hearts are a good source of iron. Iron is essential for maintaining a high red blood cell count and assisting with collagen production for healthy skin, strong immunity, and healthy DNA.
Vitamin B12, also known as cobalamin, comes in high concentrations in organ meats such as chicken hearts.
If your dog becomes deficient in Vitamin B12, it can lead to a wide range of issues, such as poor digestion, a weak immune system, and declining cognitive functioning.
There is also a connection between Vitamin B12 and iron: a deficiency in Vitamin B12 can lead to a deficiency in iron. This iron deficiency can lead to anemia, which means your dog's red blood cell count is dangerously low.
Symptoms of iron deficiency include:
Pale gums

Rapid heartbeat

Fast breathing

Lethargy

Black stools
Please contact your veterinarian immediately if you notice any of these symptoms.
By putting chicken hearts in your dog's bowl, you can ensure that they get a natural boost of iron and B12 to keep the body healthy.
Chicken hearts are an excellent protein source, which is fantastic for growing puppies to develop to their fullest potential. They also help adult dogs maintain, repair, and restore critical bodily functions.
Overall, protein is an essential part of a balanced diet. It makes up the building blocks of your dog's body, keeping their muscles strong and organs healthy.
Can dogs eat raw chicken hearts?
Dogs are canines biologically adapted to eat raw meat.
How is this possible? Well, dogs have much more acidic stomachs than humans, allowing them to safely eat raw organs. They thrive off the nutrients in raw food (similar to their wolf ancestors).
Raw organ meat is preferable for canines because cooking organs can cook off some of the most vital nutrients.
Additionally, studies show that a diet full of raw foods for dogs improves the balance of gut flora compared to a diet of processed kibble. Gut health is crucial because about 80% of your dog's immune functioning derives from their gut. A stronger immune system decreases your dog's risk of contracting diseases, viruses, and infections.
Finally, dogs simply love the taste of chicken hearts (this will help your picky eaters!). Dogs are natural scavengers that enjoy a variety from fresh meat to organs to raw bones. Chicken hearts are a great way to bring excitement and appetite back to a dog that's sick of the same old food.
The connection: food allergies and chicken hearts
If your dog suffers from food allergies, raw chicken hearts are a great option to alleviate the symptoms. That's because commercially processed foods often cause food allergies. Giving your dog a more biologically appropriate food source will make them less inflamed and more able to process real, whole foods.
Frequently asked questions
1. Can chicken hearts replace a complete and balanced meal?
No, chicken hearts do not replace a complete and balanced meal. You can use chicken hearts as one part of a balanced diet, as a treat, or as a freeze-dried topper.
2. Are chicken hearts good for dogs?
Yes, chicken hearts for dogs are extremely healthy because they improve heart health and reduce inflammation. Chicken hearts contain essential vitamins, minerals, fats, and other nutrients like taurine, B12, phosphorous, fatty acids, protein, iron, and zinc.
3. If my dog is allergic to chicken, can they eat chicken hearts?
If your dog is allergic to raw chicken, they cannot eat raw chicken hearts. However, some dogs are only allergic to chicken in a cooked, processed form. Consult your veterinarian or look out for any signs or symptoms of an allergic reaction.
4. Can cats eat chicken hearts?
Yes, cats can eat chicken hearts because they are carnivores biologically adapted to process raw meat. Cats can eat freeze-dried chicken hearts or frozen chicken hearts as a treat, topper, or inside of a meal.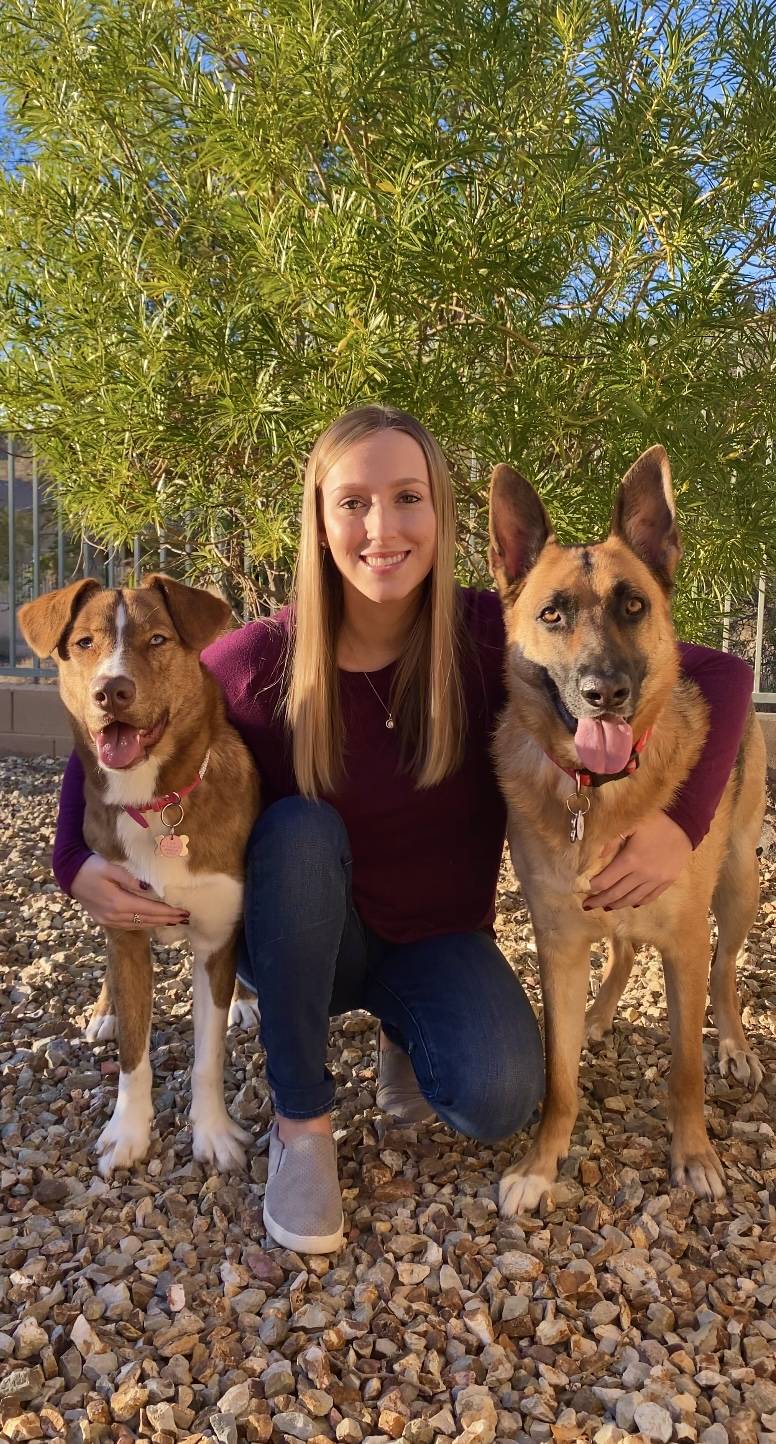 About the Author
My name is Kayla Kowalski, and I'm a Certified Canine Nutritionist (CertCN) passionate about keeping your dog happy & healthy! I've helped more than 5,000 dogs successfully transition to healthier diets. If you want help transitioning new foods into your dog's diet or learning how to make their diet balanced & healthier, visit KaylaKowalski.com.
I've partnered with Oma's Pride because they are a legacy, 4th-generation family business and pioneers in raw pet food. They craft food in small batches (200 pounds or less) in a USDA facility and support all pet parents pursuing the healthiest lives for pets.
I trust Oma's Pride to provide the best raw nutrition for my pets, and I know you will too.

Connect with us on social!